Tesla Variable Speed Pool Pump
Tesla is a variable speed pump that utilizes ECM permanent magnet technology—the best platform for maximizing motor energy efficiency. Variable speed pumps offer numerous benefits over traditional pool pumps. The Affinity Law for fluid dynamics states that a small reduction in speed results in a big reduction in energy expenditure. By harnessing the Affinity Law, we are able to deliver a variable speed pool pump that is unmatched in energy efficiency and savings. The Tesla Pump is able to run at lower motor speeds while still effectively cycling your pool water. In fact, running at lower speeds means you can run the pump continuously, for optimal water circulation.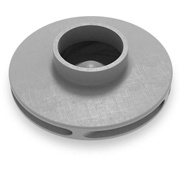 High-Efficiency Variable Speed Design
The Tesla Pump offers the highest efficiency operation. Using as little as 20 watts, you can cut your energy use by up to 90% and save up to $1500 per year in utilities. The ultra-efficient permanent magnet motor reduces noise and vibration for improved operation and longevity. Operating on the lowest setting, you can run the Tesla pump for long hours with virtually no strain on pool equipment. The Tesla Pump is so efficient, running it for 24 hours costs the same as running a single speed pump for only one hour.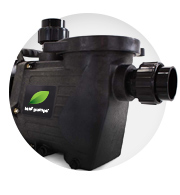 Superior Warranty
Most variable speed pool pumps only have a one year warranty. Tesla comes standard with a 2-year limited warranty. You can rest assured knowing that your investment, and your pool, are protected for years to come. Tesla is a variable speed pump that is built the right way; engineered for reliability with premium parts for improved strength, corrosion resistance and protection. Telsa is the most reliable and efficient pool pump ever.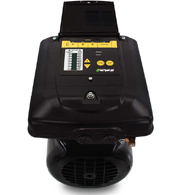 Simple Onboard Controls
Built-In Controls with a bright LED and simplified push-button keypad allow you to easily control the pump speed and run time. The 24-hour programmable controller allows you to set the three presets from 600 – 3450 RPM. And external control options are compatible with virtually all third-party automation. With built-in freeze protection that automatically turns on when the temperature falls below 39˚ and NEMA Type 3R environmental rating to protect from the elements, operating Tesla is simple and worry-free.
| | |
| --- | --- |
| Pump Type: | Self-Priming Centrifugal |
| Impeller/diffuser: | Glass-Filled NORYL |
| Pump Seal: | High Grade Carbon/Graphite/316 Stainless Steel |
| Strainer basket: | Sturdy Oversized 2.1 L Single-Piece |
| Port size: | 2" Inlet and Outlet with Unions |
| Shaft material: | Stainless Steel |
| Material: | UV Stabilized Thermoplastic |
| Motor: | 1.65 HP |
| Motor speeds: | 600 to 3,450 RPM |
| Motor presets: | 3 Programmable Presets |
| Max amps: | 10 |
| Electrical input: | 230 Volts, Single Phase Input via VFD (20 amp Breaker Recommended) |
| Motor cooling: | Internally Fan Cooled, Thermal Overload Protection |
| Freeze Protection: | Automatically Turns Pump On at 39° |
| Noise Level: | Ultra Quiet - Meets FCC Part 15 Class B |
| Built in Controls: | Simplified, Bright LED Keypad with 24-Hour Control Speed and Run Duration |
| External control options: | Digital Inputs Compatible with Virtually all Third-Party Automation |
| Weather Rating: | NEMA Type 3R Environmental Rating - Does Not Require an Enclosure |
| Warranty: | Best-In-Class 2 Year Limited Warranty |
Write a review
Your Name:
Your Review:
Note:

HTML is not translated!
Rating:
Bad
Good