EvoSun Solar Pool Heater
Evosun is the world's first high performance yet easy to install solar heating system that doubles your swim season by heating your pool to a toasty temperature the whole family will love. Evosun'.. Read more
| | |
| --- | --- |
| Product Code: | Solar Heater |
| Availability: | In Stock |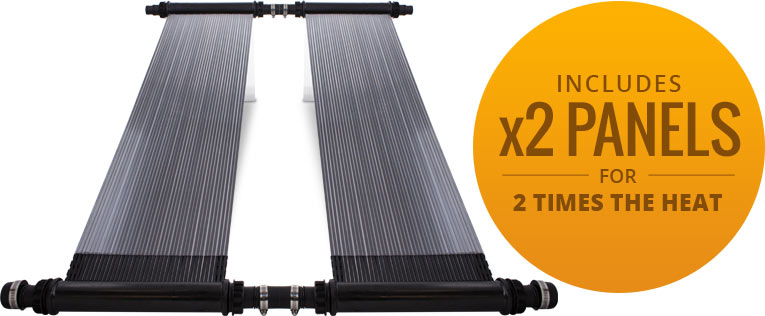 Evosun is the world's first high performance yet easy to install solar heating system that doubles your swim season by heating your pool to a toasty temperature the whole family will love. Evosun's DIY solar pool heating systems can be installed in just 15 minutes and can double your swim season.
The Evosun Performance Advantage
Evosun features a revolutionary design that includes 78 sun absorbing heating tubes encased in polymeric glazed insulation that creates a powerful greenhouse. The result is a system that heats faster and more efficiently to achieve best in class thermal performance.
The highly efficient dual core acrylic design leverages both short and long wavelength rays from the sun. The "dual core" glazed design insulates the back of the solar pool heater and retains more heat for longer periods. With 50%-70% more tubes than some other systems, the increased performance is no surprise.
With an oversized surface providing 967 square inches of heating power, Evosun increases water temperature up to 15 degrees. The powerful "greenhouse action" outperforms traditional solar pool designs up to 70%. A proprietary anti-algae material resists internal algae growth during the winter, eliminating dreaded "green cloud" upon startup
How Evosun Outperforms
Short-wavelength IR light from the sun passes through the acrylic "window pane"
The black high performance heat tubes absorb short wavelength IR light and superheats.
The acrylic absorbs the long wavelength IR and warms even more. It gives off long wavelength IR which heats the closed core of the system, heating the water further.
Now hot, the heat tubes transfer heat to the passing water
Evosun Solar Heating is Affordable
The only professional grade DIY solar heating system on the market today. Until now, solar pool heating was limited to the homes of the wealthy. If you wanted solar pool heating, you had to hire a professional who would mark up the price 10 – 15 times. Professional grade solar systems like Evosun typically cost $4,000 - $7,000. Evosun's direct model makes solar both affordable and easy. Eliminate the insanely high expense of heating with electric and gas. Now you can enjoy your pool more while maintaining an energy efficient home.
Evosun Solar Heating is Smart
Heating the swimming pool is smartest way to get the most out of your swimming pool. Families can now enjoy their pool up to 8 months each year. But heating pool water is the single largest waste of energy. Using solar energy to provide heat is smarter than ever. Solar pool heating is a proven technology that can dramatically reduce utility bills, increase home value and provide long term return on investment.
Quick and Easy Installation
Install anywhere around the pool or on the roof. The Evosun's revolutionary design allows it to be placed anywhere and starts heating immediately. Evosun assembles within minutes with just one tool - a simple screwdriver. Get Evosun today and double your swim season.
Evosun Specs
"Dual Core" glazed design insulates the back of the solar pool heater and dramatically reduces heat loss
50%-70% more tubes than some other systems
Proprietary anti-algae material resists internal algae growth during the winter. Eliminates the "green cloud" upon startup
Proprietary flow metering system distributes water evenly for increased heating
The only professional grade DIY solar heating system available
Rugged, UV-resistant polypropylene and acrylic material provides years of reliable service
Manifold designed for maximum water flow and least amount of back pressure
Pool Sizing Guidelines
| | |
| --- | --- |
| Inground Pool Size | |
| Up to 18' round | 1 Evosun |
| Up to 15' x 30' oval | 1 Evosun |
| Up to 24' round | 2 Evosun |
| Up to 18' x 33' oval | 2 Evosun |
| Up to 28' round | 3 Evosun |
| | |
| --- | --- |
| Above Ground Pool Size | |
| Up to 15' x 30" x 5' depth | 2 Evosun |
| Up to 16' x 34" x 5' depth | 3 Evosun |
| Up to 20' x 40' x 5" depth | 4 Evosun |
| Up to 15' x 30" x 8'+ depth | 3 Evosun |
| Up to 16' x 34" x 8'+ depth | 4 Evosun |
| Up to 20' x 40' x 8"+ depth | 5 Evosun |